You and your science teaching colleagues are invited to the Regional Physics Day in Canterbury on Saturday 2nd March 2019.
This whole day of high-quality and fun CPD is aimed at science teachers (especially those teaching physics outside their specialism); teacher trainees and technicians are also welcome.  One teacher who attended last year's inaugural event said: "This was one of the best CPD days I have ever attended, from the quality of teaching, organisation… and food and drink!  Absolutely excellent!"
There are 4 sessions, each with 4 workshops to choose from when you book, with topics from Key Stages 3, 4 and 5, lots of hands-on practical activities and new teaching ideas, as well as plenty for technicians, all delivered by expert physics teacher trainers.  Details of all 16 workshops are: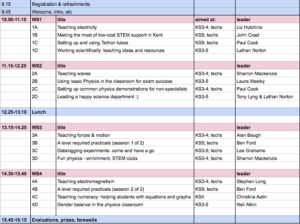 Please forward this email and the flyer attached to other colleagues and contacts who might be interested.
Book Now