EKST Organisational chartPlease get in touch, whether you are are from a partner school or university, keen to get involved or interested in supporting our work.  You can meet key members of our team below:

Sarah Moir, EKST Project Lead
email: EKSTpartnership@gmail.com
phone: 07864 605412
Sarah works part-time across the partnership schools and university, working closely with the Management Group and reporting to the Chair of the Heads Group.

Jez Rowarth, Chair of the Heads Group
Jez is Head at St Anselm's RC School, Canterbury and he chairs the Heads Group, which meets three times a year to oversee the direction and focus of the partnership.

Lucie Turner, Chair, Management Group
Lucie is Lead Teacher for Learning at St Anselm's RC School, Canterbury and for EKST is the Chair of the Management Group, made of up two Partnership Champions from each partner school and university, which manages all the partnership projects and events and meets six times a year.

Mark Taylor, Chair of the Finance Group
Mark is Bursar of The King's School and chairs the Finance Group which meets three times a year to give financial advice and oversight to the partnership.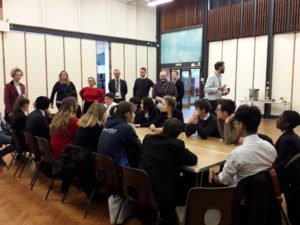 EKST Student Voice is the student representation for the partnership
Each school has three members on the Student Voice, one from each Key Stage.  Canterbury Christ Church University facilitates the work of the Student Voice from among their Outreach Team and Ambassadors.
Organisational Chart