The East Kent Schools Together partnership welcomes an Artist in Residence to engage students across seven schools in a six month long unique art collaboration entitled 'Rearranging Deckchairs' to be exhibited this summer at Turner Contemporary, Margate.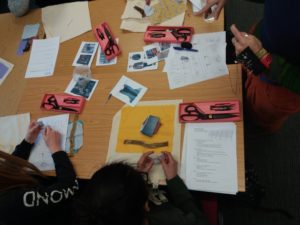 The Kent coast has long been the inspiration for local artists. Continuing in this tradition East Kent Schools Together's new creative collaboration, Rearranging Deckchairs, has taken the seaside as its stimulus and aims to produce dozens of creatively adapted deckchairs.   Students aged 14 to 18 from across the partnership will have a unique opportunity to collaborate in creative workshops, in which to design and make their own fabric for the chairs.  This textiles project teaches new skills to students and staff alike and broadens artistic horizons.  Additionally, encouraging students to recycle clothing and fabric has the potential to open up a dialogue between students and will give their work a real sense of narrative and heritage.
Artist in Residence Esther Miles says: "I am thrilled to be part of a project that unites students from across the East Kent Schools Together partnership.  Creative collaboration is such great way to build community and an arts project of this scale is extremely exciting for everyone involved."
The project closely meets the aims of East Kent Schools Together (EKST) by uniting young people from across the partnership; bringing together students from different social and economic backgrounds whilst giving the students the opportunity to learn new skills, in fresh environments which we hope will enhance confidence, wellbeing, teamwork skills and the development of lasting and meaningful interactions.  Student outreach ambassadors from CCCU will play a key role in raising aspirations through role modelling whilst developing their leadership skills.
Christina Astin, co-chair of EKST says: "This project will introduce a new skill set for students and teachers, as well as breaking barriers between students from different backgrounds.  I'm looking forward to seeing the fruits of this collaboration, both the finished deckchairs and also some new friendships forged."
The culmination of the event purposefully coincides with the Turner Contemporary's exhibition Seaside: Photographed.  We are very excited to launch the installation there and to exhibit the students' work on the terrace throughout the summer months for members of the public to enjoy – and sit on!
We are very grateful for the support from an Anonymous Donor and the Crown Charitable Fund who have made this project possible.